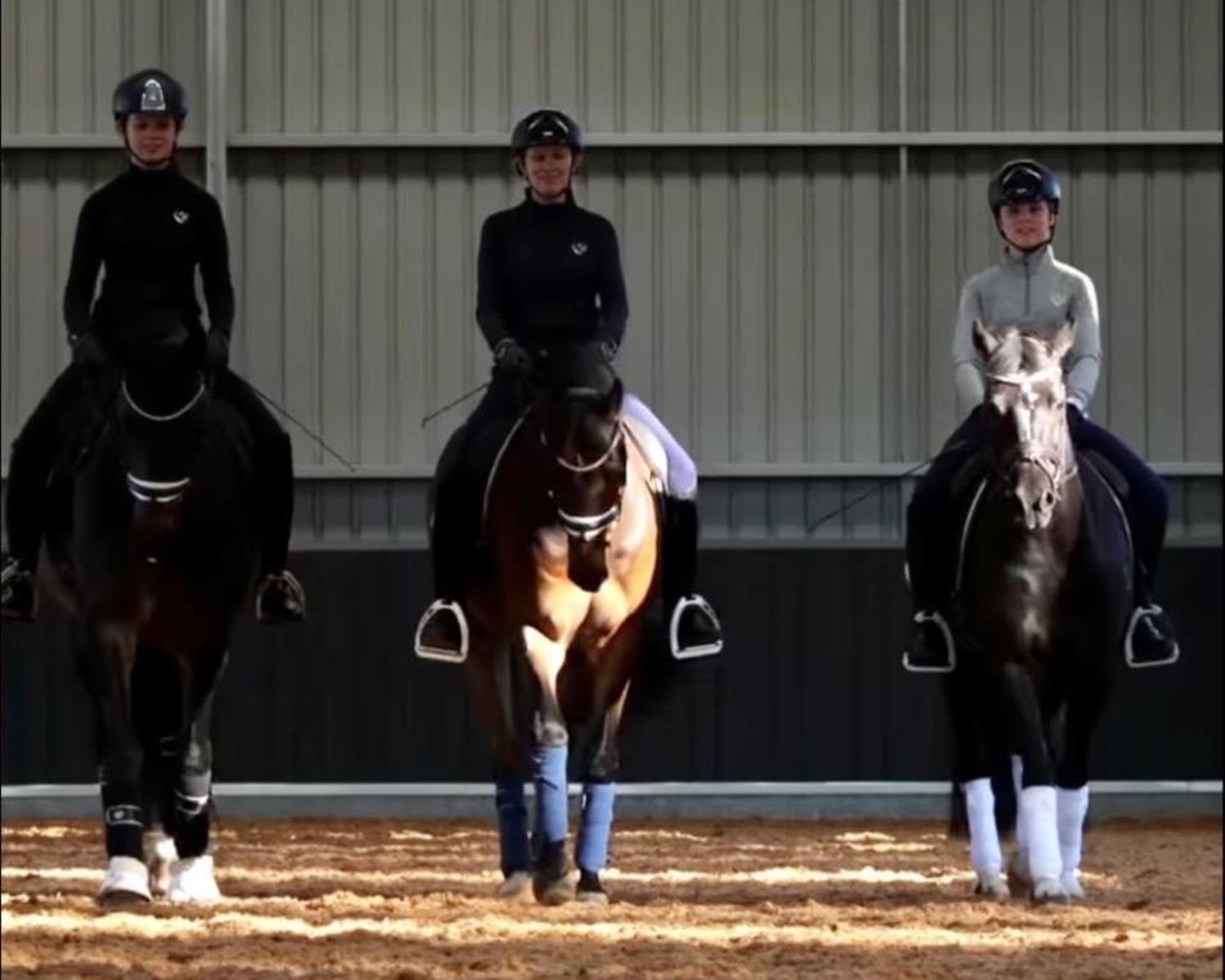 Team Sutherland comprises of sisters; 15 year old dressage rider Felicity Sutherland (affectionately known as 'Flip'), 12 year old dressage and show jumping rider Rosemary (affectionately known as Posie) and mum, Edwina who rides and coaches dressage horses. 
"Being members of the BARE team is fantastic. We share a love for Equestrian fashion and love the BARE range. BARE are a supportive and innovative team, and we are proud to represent a brand that we use every day."
Quick questions with the Sutherland's
WHAT EQUESTRIAN ACHIEVEMENT ARE YOU MOST PROUD OF?
Edwina: Training a number of horses through to FEI level. Competition highlights: winning the Inter 1 Freestyle at the Victorian State Championships as a Young Rider and placing third at DJWTS in the 4YO class with my mare Shimmer. I'm also proud of coaching Felicity and Posie to their successes.
Image: Jessica Atkins
Felicity: I am most proud of winning the Medium and Advanced championships at the 2022 Australian Youth Dressage Championships with my mare Estee. It was also exciting placing 3rd in the 2020/21 EA Nationals. I have also won champion rider at Barastoc Horse of the Year twice.
Image: Equine Images Victoria
Posie: Winning 2021 PSI DJWTS Performance Pony with Hillswood Quest and PSI DJWTS CDI Childrens Team Test 2022 with Cherishwood Dream On. It was also so exciting winning Reserve Champion Childs Hack at Grand Nationals 2021 with Cherishwood Dream On.
Image: Angie Richard Photography
HOW DO YOU STAY MOTIVATED?
We stay motivated by riding together and encouraging each other. We help each other with all the horses and pitch in with all the jobs!
WHAT IS YOUR BEST COMPETITION DAY TIP OR ADVICE?
It is essential to be well prepared and trust your training. Try to focus on your personal goals instead of the results/competition.
DO YOU HAVE A PARTICULAR GOAL OR PLAN YOU'RE EXCITED ABOUT IN 2022?
We are looking forward to Interschool Nationals in September, the Australian Dressage Championships in October and EA Nationals in December.
WHICH ARE YOUR FAVOURITE BARE PRODUCTS AND WHY?
Performance and Thermofit tights are most definitely our favourites! They are incredibly comfortable, supportive and help us survive riding/coaching in a Macedon Ranges Winter! We also love the new white BARE competition saddle pad with the wool! And of course we absolutely love the new Felicity vest!! It is so comfortable – warm & stylish.
FOLLOW THE SUTHERLAND'S ON SOCIAL
Instagram:
Felicity: @fsutherland_eq
Posie: @posie_sutherland_equestrian
Edwina: @sutherlandstables