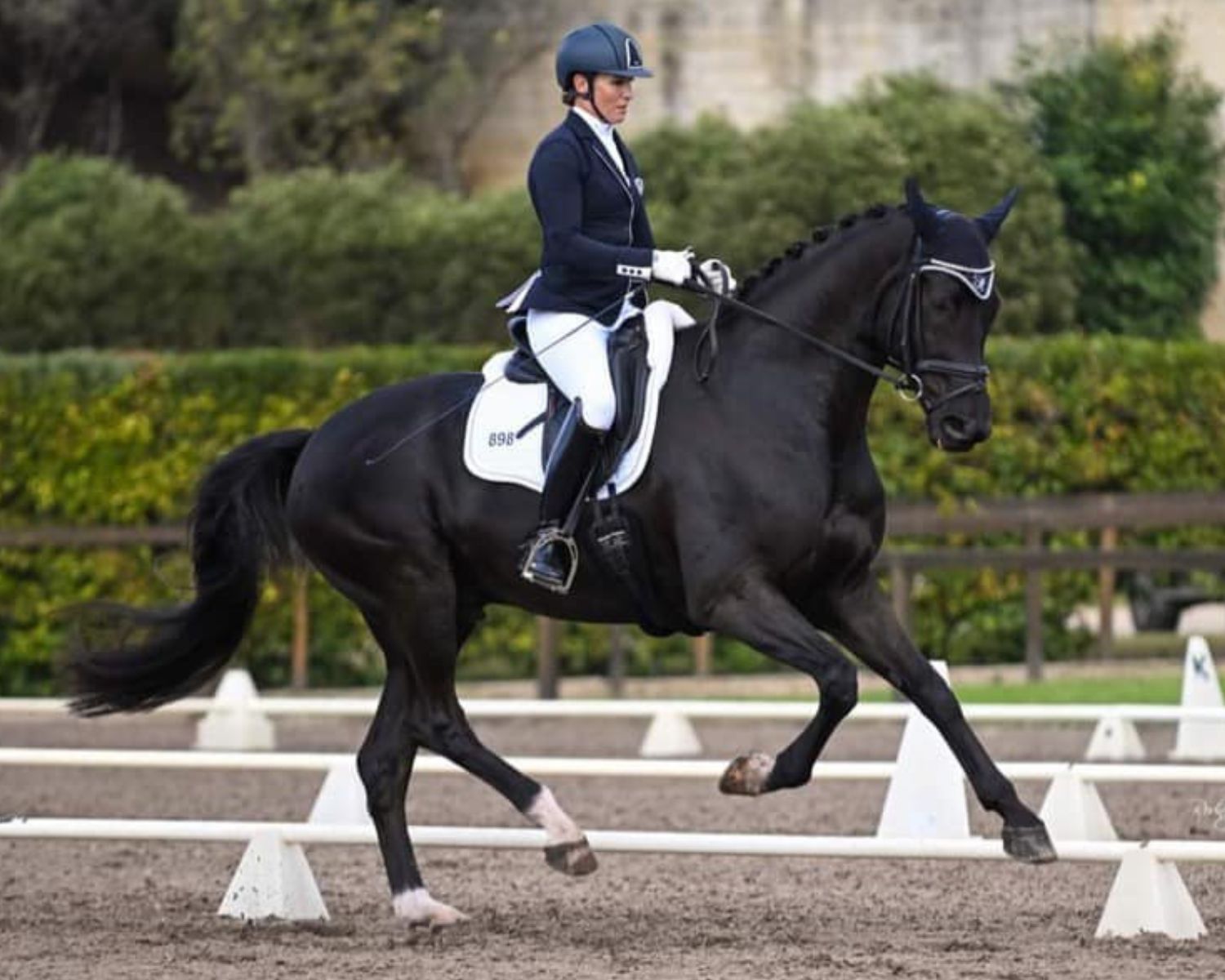 "I've spent years developing myself as a rider through several avenues and disciplines. From a young age, I always knew I wanted to work with horses.
I did the rounds through Juniors as a showjumper before I landed my first job in racing at 16 years old. I rode for top stables, most notably Godolphin and not only was it a steady source of income to support my equestrian ambitions but more importantly a grounding to the horsemanship that is required at the elite level of any horse sport.
In 2014 I started my own Equine Pre-Export Quarantine business and ran that alongside my eventing team. I produced a few promising horses to FEI 2* and 3*, one of which - my unicorn "Riggles" who won several State and National titles.
Four years ago, I began this current adventure with Karen Miller - the owner of Ballodair Park Equestrian Centre and I haven't looked back. I have an amazingly talented team of horses, Karen is so wonderfully supportive and the facility is World Class. Our aim is to put our horses on the National and World Stage and have fun doing it!"
I'm so thrilled to be working with the BARE team; wonderful, empowering and supportive women bringing quality Australian products to the forefront.
Quick questions with Lyndal
WHAT EQUESTRIAN ACHIEVEMENT ARE YOU MOST PROUD OF? 
I found myself in the incredibly fortunate position of being the Head Rider and Trainer at Ballodair Park Equestrian Centre. Awards and ribbons aside, I would say this is definitely what I am most proud of with my riding career to date; creating and developing a team of top quality dressage horses, trained correctly and respectfully and reaping the rewards of that connection with them.
My young team of horses had a hugely successful year in 2022 with Asterix winning the NSW State Elementary Title, National EA team title and Dressage NSW Elementary Horse of the year. I am really looking forward to producing this horse to Grand Prix.
HOW DO YOU STAY MOTIVATED?
It's easy to be motivated when you love what you do. I've learned that if you want to compete against and beat the best, you have to be working as hard, or harder than them; that's just logic. I want to give my horses every opportunity to succeed, so I do whatever it takes to give us the best possible chance as a team. For me that included developing myself as an athlete too - we can't expect them to be doing all the work if we aren't at our own physical peak. The long hard days are so worth it!
WHAT IS YOUR BEST COMPETITION DAY TIP OF ADVICE?
Be prepared and well organised - all the hard work for competitions is done at home in the months, weeks and days prior. Have gear bags packed, check-lists done, car and float fuelled up and ready to hit the road. Don't add to competition day nerves by creating chaos in being ill-prepared!
Engage with your fellow competitors. What I love MOST about our sport is that whilst we are all working to win, we have each other's backs too. Most of all, have fun!! The journey is long and rewarding and there are many bumpy roads along the way, so we absolutely must have fun doing it so our horses do too.
DO YOU HAVE A PARTICULAR GOALS YOU'RE EXCITED ABOUT IN 2023?
Asterix and D or Danseur are moving up to Medium early this year so I'd love to keep their training in line for Small Tour by the end of 2023. Callum Park Starbucks is returning to the competition arena after a 2 year hiatus and this is a new ride for me so we would like to continue with him through the levels of FEI to Grand Prix. I have several breakers and young horses coming through that will start in the Young horse classes this year as well as some eventers who will debut in the coming months.
The goal is to have all our horses qualified and ready to compete at State and National Titles again this year, but as is my philosophy - we will do this at their pace so fingers and toes are crossed!
WHICH ARE YOUR FAVOURITE BARE PRODUCTS AND WHY?
I love their Breeches! So comfortable, stylish and great value for money.
FOLLOW LYNDAL ON SOCIAL
Facebook - Emadilo Equestrian
Instagram - @Lyndal_Yelavich_Dressage